The mission of ONYX is to educate and empower gay and bi-sexual Men of Color who explore the Leather Lifestyle.
ONYX is the world's leading resource for the empowerment of gay and bi-sexual Men of Color in the Leather Lifestyle.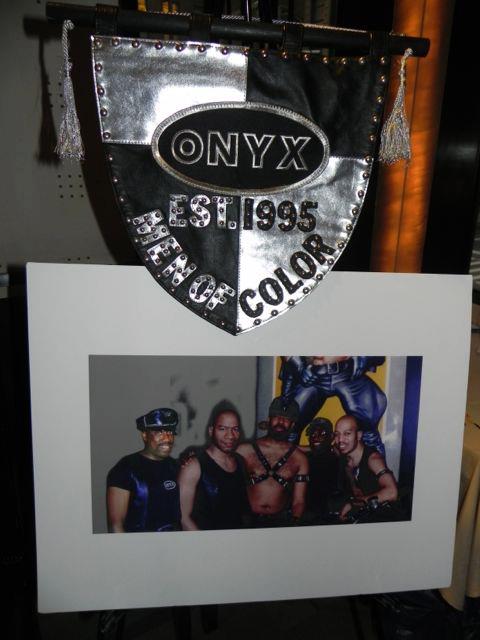 ONYX is an organization formed and operated by BIPOC men who enjoy the leather and/or kink lifestyle. ONYX sets as its goal to provide information and safe spaces to address issues specific to BIPOC who choose to project the positive aspects of the leather and/or kink lifestyle while supporting our community and economic initiatives.
Founded in 1995, ONYX looks to provide education and serve as a bridge for BIPOC men to the greater Leather community.  The founding fathers of ONYX were Mufasa, David M., Steve B., Nate G., and Wes G.   They formed the first executive board of the Men of ONYX, Inc. with Mufasa (President), Nate (Vice-President), David (Pledge Master), Wes (Secretary), and Steve (Treasurer).  Bill H. was their first pledge, and the ONYX colors were created by our ONYX Brother Charles C. of Caliber Leather.
Support, spirituality, safety, and saneness are keys to attaining our goals. Toward this end, it is the principal aim of ONYX to develop in its members' the highest standards of loyalty to the laws and established ONYX Men Code and to treat all in society with honor, unselfishness, and tolerance.
It is the responsibility of each member to uphold the traditions, standards, and practices of this organization as well as the time-honored principles of democracy on which this country was built.
It is the fundamental belief of this organization that no finer means is offered for the achievement of these aims than the brotherly association of persons with similar tastes, inclinations, and goals.
ONYX has a longstanding reputation within the community with members nationwide and internationally. We are the longest existing leather club for BIPOC and are known for our hospitality and our infamous annual fundraisers, the ONYX Leather Dance at International Mr. Leather Weekend in Chicago and our Cocktail Party and Gear Show at Mid-Atlantic Leather in Washington, DC. ONYX celebrates its biennial anniversary with our ONYX BLACKOUT Weekend Run which occurs in the Fall!
ONYX is a national organization with a reach that spans from coast to coast. We have ten chapters: Midwest based in Chicago, IL, Southeast based in Atlanta, GA, Northeast based in New York, NY, Mid-Atlantic based in Washington, DC, Southwest based in Los Angeles, CA, Great Lakes based in Detroit and Cleveland, Northwest based in San Francisco, CA, Deep South based in Fort Lauderdale, FL, Lone Star based in Dallas, TX and Gulf Coast based in New Orleans. ONYX has shown significant growth, increased its visibility and has built alliances all across the nation and abroad.
All who support our cause may become members of ONYX. We thank the elders in the BIPOC Leather Community for paving the way for us to exist. ONYX honors that tradition and looks forward to many more years of excellence.